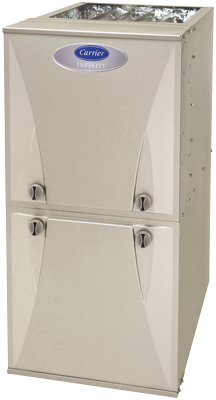 Gene's Heating & Air, LLC provides the exceptional products, conscientious workmanship, and knowledgeable recommendations to deliver greater return from your investment into winter comfort.  Whether you're installing new or replacing old, we target your specific, current, and anticipated requirements, to custom design the ideal heating system.  Unlike our competitors, our technicians are extensively educated and certified in their field, and are qualified to properly size, locate, and implement leading-edge equipment.  By refusing to cut corners and paying attention to every important aspect, Gene's Heating & Air, LLC optimizes long-term energy efficiency, heating capacity, and reliability, bringing superior rewards to homeowners across Manning, Sumter & Santee, SC.
Expert Heating Installation & Replacement Service
Having earned recognition as a Carrier Factory Authorized Dealer, Gene's Heating & Air, LLC is specialized in a range of sophisticated heating options, including packaged and split heat pumps, and gas furnaces.  We like nothing better than introducing and explaining the many innovative features that will not only simplify management of your household but enhance comfort, trim monthly costs, and put complete control over your indoor climate at your fingertips.
For heating installations you can trust, call the team from Gene's Heating & Air, LLC!
Rest assured, the professionals from Gene's Heating & Air, LLC guide you through each decision and stage of your project, maintain organized job sites, and ensure quick turnaround.  With over four decades of dedicated service in Clarendon County, Sumter County and Orangeburg County, Gene's Heating & Air, LLC is firmly established as a trusted and dependable solution to your comfort.